By Molly • September 13, 2011
Here's what's going on in Durango this September!
September 13, 20, 27: The Docents of the Durango Arts Center's Featured Presentations – From 10am - 11am at the DAC.
September 16 - 18: Telluride Blues & Brews Festival – A three-day celebration of live blues and microbrews, over 20 national touring bands, over 50 microbreweries from around the West, and a crowd of 9000 from across the country.  
September 17: Walk to End Alzheimers – Meet at Santa Rita Park at 9am for registration, the walk will begin at 10am.
September 17: Oktoberfest - The San Juan Citizens Alliance hosts this annual event promoting sustainability and fun! There will be great food, great music and great brews at the pub crawl! Have kids? Bring them down for a jumpin'  good time in the Children's Museum air castle. Get their faces painted and enjoy kid friendly crafts.
September 17: Second Wind Scramble – Adventure style running race at Durango Mountain Resort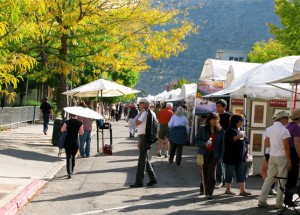 September 17-18: Durango Autumn Arts Festival - A festive celebration of artists and those who love the arts. Fine arts and crafts, music and food on 2nd Ave between 7th and 9th streets.  Second Avenue in Durango's historic downtown provides the setting for this outdoor festival, against the backdrop of the La Plata Mountains. The wide avenue, lined with restaurants and a variety of shops is one block from Main Avenue, a gathering place for shoppers and the thousands of visitors that fill the town each fall.
September 24: SKA Brewing's 16th anniversary party - Featuring the Toasters, one of the longest-running U.S.-based Ska bands. Samples from 20 of Colorado's and the Four Corners' finest breweries. 21+ Will sell out.
September 24-25: Fall Photo Train with the D&SNGRR  – Join amateur and professional photographers as we take the train into the remote wilderness of the San Juan National Forest and drop you off to photograph the train steaming past. Passengers will have the opportunity to photograph the train with a backdrop of high peaks, autumn color, and the Animas River. Experience the pure majesty of autumn in the San Juan Mountains.
September 24-25: The Successful Aging Seminar - Midlife and Beyond, led by experts Richard Peterson and Jerry Muth, will cover a broad range of subjects designed to help those entering mid-life and beyond. Topics include physiology, psychology, neurology and financing. These experts will share their wealth of information through lectures, group discussion and exploratory exercises. The seminar runs all-day on Saturday and half-day on Sunday. A box lunch will be provided both days. The cost of the Successful Aging Seminar, Midlife and Beyond is just $125 if booked by September 1. Take the next step in securing your future with this informative seminar at the Durango Mountain Institute. Space is limited. Call 800-525-0892 to make your reservations today.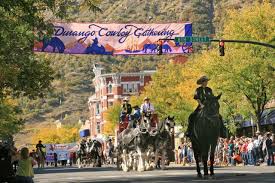 September 29-Oct.2: Durango Cowboy Poetry Gathering – The Gathering is an exciting, fun-filled event with evening performances and Saturday daytime sessions. Poets and musicians from throughout the country grace our intimate stage at the Henry Strater Theater in the historic Strater Hotel in downtown Durango, Colorado, performing classic and contemporary poems and songs that will bring tears to your eyes and keep you in stitches!
Get New Blog Posts in your Inbox