River Rafting Frequently Asked Questions
By Molly • August 18, 2011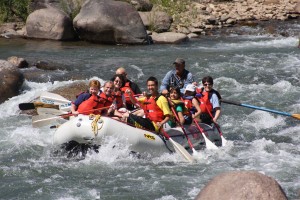 When do we need to make reservations?
During peak season, many of our trips book out. It is best to make a reservation as soon as you know when you want to go on a trip. Our trip consultants can help you choose which trip is right for you!
What should we wear?
For spring trips, wetsuits are recommended on most trips and are required all season on the Upper Animas and the Piedra River. Swimsuits are worn under the wetsuit. Synthetic fleece, poly-pro or wool tops keep you warmer, as well. In the summer months, swimsuits and nylon shorts are sufficient on our milder trips. Cotton t-shirts, sweatshirts and jeans will stay cold (the temperature of the snow melt water) when wet, so are not suggested. Shoes are required at all times. Wetsuits boots, better known as booties, work best and are available for rent. Since the water is from snow melt, wetsuit boots are always valued. Sandals with straps or old sneakers will do if you do not mind cold feet.
Do we have to know how to swim?
You do not have to know how to swim to go rafting! PFDs, your personal flotation device, are worn at all times on the river and are designed to float you face up. The guides instruct you before the trip on what to do in the small chance (more likely on higher adventure trips and inflatable kayak trips) you take a  swim in the river.
How big are the rapids?
All rivers are different. Most rivers in the world are rated on the International Scale of Whitewater I – VI. Class I is "moving water" Class II are "splashes" Class III are "wet and fun" Class IV are "big drops" Class V are "violent rapids" Class VI is considered "un-runnable". Each of our 27 raft trip options details the class of rapids to guide you on what trips are best for you. Mild to Wild offers trips for all adventure levels on the river in a raft or inflatable kayak and in the high country in our custom jeep trail tour vehicles.
How deep is the river?
River depth changes at different points depending on the gradient and width of the river.
Can we bring cameras or video cameras?
We suggest bringing waterproof, disposable cameras and leaving the video camera at home (nless it is waterproof). There is no guarantee that your camera and video camera will not get wet. Photos are taken on some of our more mild rafting adventures and are available for purchase after your trip.
Do we have to paddle?
There are different types of boats used for different situations. Oar framed boats allow the guide to use a pair of oars to control and move the raft. Often, customers paddle along with the guide according to his or her commands. Since the guide essentially has control, guests may opt to get involved and help paddle or simply sit back and enjoy the scenery. Paddle  boats do not have the frame so participants and the guide all have a paddle. No experience is necessary for either type of raft configuration. The guide will teach you how to paddle in your pre-trip instructional and safety orientation. On our high adventure trips (Upper Animas and Piedra) all participants are required to paddle. On many medium adventure trips, most participants in the raft may be required to paddle, depending on the river.
How cold is the river water?
The rivers we run rely on snow melt (as opposed to dam releases) as their main source of water. This means that in the early season, the water is very cold (40-45 degrees). Later in the season, the water does warm up to about 50-55 degrees. Splash jackets are provided on all of our trips. Wetsuit boots are recommended all season, wetsuits are recommended early to mid-season on mild trips, and they are required on most intermediate trips, all high adventure trips and most inflatable kayak trips.
How do we get back to our car?
We provide transportation in quality, well-maintained vehicles back to the meeting place at no extra charge on all of our trips.
Will I get wet?
The trip, the water level and the class of white water will determine how wet you get. Our milder trips have smaller rapids so you get less wet. Also consider the season. If you raft when the snow is rapidly melting and the water is higher, you will get wetter than later season. If it rains, you get more water for you money, and the rainwater is warmer than the river water!
What are the minimum and maximum age limits?
With 27 different trip options for people ages 4-104, you are sure to find the trip that is right for you. All trips have recommended age minimums. These age minimums can fluctuate depending on the water level. See each trip's specific detailed outline for age requirements. We do reserve the right to raise age minimums at higher water levels.
Get New Blog Posts in your Inbox