What to Pack on an Overnight River Rafting Packing Trip
By Molly • October 7, 2013
About to hit the river? Be sure you are prepared with this handy packing list! Tried and tested by expert river guides (like our very own Mild to Wild team!), this list contains some items you may not necessarily remember when packing for your overnight excursion…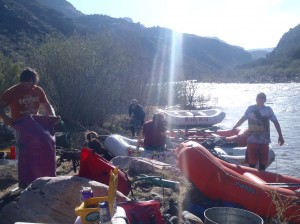 Lotion – The water dries out your skin a lot quicker than you would expect and many unsuspecting rafters have been infected with the lizard skin disease. Always, always, always bring a large bottle of lotion to ward off uncomfortable dry skin. Don't forget your lip balm to keep your lips hydrated, as well!
Sunshirt – With skin protection in mind, a sunshirt is a wise choice, especially on sunny, desert rivers like the Colorado River in Moab, Utah. A light colored, long sleeve shirt that is designed to dry quickly will keep you cool (as well as protected!) from the harmful midday sun. Along with a sunshirt, bring a wide rimmed hat on your trip to keep your face protected from those rays!
Sarong – Sleeping on a summer rafting trip can often prove to be uncomfortably warm. A light sheet or sarong is the key! You can dip the sarong in the water to help combat overnight overheating and it can provide a light coverage during the day to keep your legs from getting burned!
Items for Extra Fun:
Water Gun – Great for long lasting "pirate" battles.
Lightweight Hammock – Sling this bad boy up when you get to camp for some well deserved rest and relaxation!
Light-up Party Glasses & Pineapple Slices – Why not add some flare to your evening happy hour or dessert??
Frisbee – Beach games are half the fun of overnight rafting trips!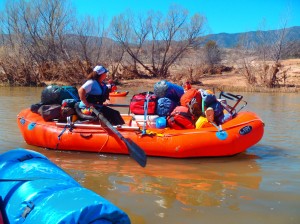 A few other useful items often overlooked:
Eardrops
Eye drops
Extra contacts (for the visually impaired!)
Binoculars
Nail clippers
Disposable face wipes
Bug spray
Headlamp (You'd be surprised how many people forget a source of light on overnight trips!)
Remembering packing for your river trip is only have the battle, the other half is being open to the adventures that lay ahead! Let yourself do goofy things, make mistakes and laugh them off, enjoy your trip mates and most of all, appreciate the nature that allows us to have grand adventures and great times out on the river!
As one of the Owners of Mild to Wild Rafting and Jeep Trail Tours, Alex Mickel is a leading guide and expert in the Whitewater Rafting Adventures & Jeep Tours in Colorado, Utah & Arizona!
Get New Blog Posts in your Inbox