Mild Durango Rafting Options
By Molly • March 3, 2014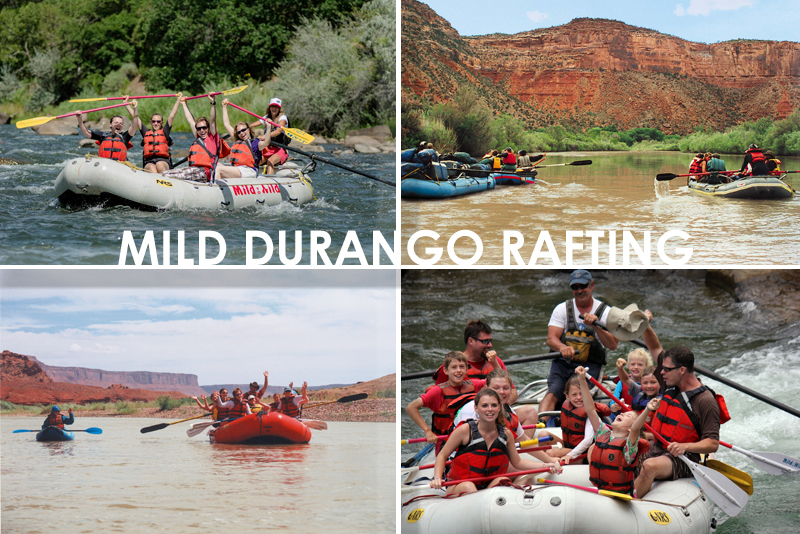 Looking for things to do in Durango this summer? There are plenty of wonderful whitewater Durango rafting options for you in and around the area! Many of our milder rivers are perfect for a Durango family outing when you're visiting Southwest Colorado!
Our mild river rafting options are perfect adventures for those who want a leisurely river trip dotted with some whitewater thrills! Discover the Southwest's beautiful and diverse scenery while your guide shares stories of Durango's local history, traditions, activities, geology and wildlife.
Durango's Lower Animas River
Durango's family-friendly and most convenient rafting is on the Lower Animas River, the heart of Durango. The Lower Animas River is reliably mellow; although spring's high water can turn Smelter Rapid into a Class 3 thriller, mild enough for the whole family and, at the same time, a great taste of whitewater adventure!
Starting as a cascading torrent, high in the San Juan Mountains above Silverton, Colorado, the river then mellows to a placid meandering river as it enters Hermosa, Colorado, before it picks up just a little steam, traveling through Durango's rocky mesa valley. Our half and full day Lower Animas River trips offer explorations of both the San Juan wilderness and Historic Durango – the perfect blend of Durango culture! Durango rafting trips begin in April and last through October – a particular beautiful month for rafting in Durango, as crowds have diminished and aspens and cottonwoods glow their famous golden hue.
Moab's Colorado River
For a scenic day trip, drive a brief two hours and fifteen minutes to Moab, Utah to enjoy the red rock canyons, sandy beaches and warm desert sun on a leisurely float trip down the Colorado River. As safety is always our top priority, our mild Colorado River trip is perfect for family's with younger kids, ages three and up – providing Class 1, 2 and a few Class 3 rapid experiences. Raft through the Colorado Plateau's famously carved canyons and mesas, enjoy lunch on the riverside and stay-cool with an afternoon soak and swim! Or make your Four Corners rafting excursion a little longer and spend the night on the Colorado River, camp under the stars and raft for one, two or three days!
Telluride's Dolores River
Another great mild Durango rafting trip option is the Dolores River, near Telluride, Colorado. In early spring we often run the lower reaches of the Dolores River – showcasing spectacular mountain vistas and colorful desert murals along the way.
Eager to learn more about Durango rafting opportunities, tips and details? We'll be posting more information on our blog as the season continues! Come back soon for more Durango rafting information or call us today to talk to a trip consultant about the right river trip for you! Reach us at 970-247-4789 or info@mild2wildrafting.com.
Get New Blog Posts in your Inbox