Mesa Verde Tour Sweepstakes!
By Molly • December 3, 2013
Win 2 Free Mesa Verde Tours!
This Sweepstakes is Now Closed. Thank you for participating!
Enter to WIN a Free Guided Mesa Verde Tour for 2 on Durango's Mesa Verde Discovery Tour (Value $250+)! Last day to enter is December 4th, 2013! Enter now!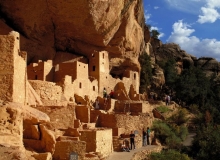 Rated by Smithsonian as one of the top 28 places to visit in your lifetime, Mesa Verde offers the largest Cliff Dwellings in North America. Don't miss the opportunity to experience cliff Dwellings and kivas in Mesa Verde – one of only 20 World Heritage sites in the United States.
Contest Ended! Keep your eye out for another Sweepstakes soon!
Get New Blog Posts in your Inbox