Different Jeep Trail Tour Vehicles for Different Days
By Molly • October 29, 2013
In Southwest Colorado we encounter a lot of different weather conditions during the course of our jeep tour season. We could encounter anything from a cold and snowy day to a hot and dry day (potentially in the same week!). So, here at Mild to Wild, we provide three different vehicles to suit the weather and our customers: Mountain Safari Vehicle, Suburban and Pinzgauer.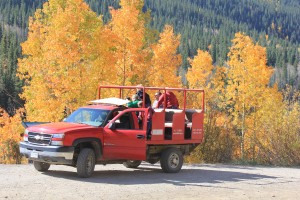 Mountain Safari Vehicle: These vehicles are designed for the demands of the old mining roads of the San Juan Mountains that surround Durango, Silverton and Telluride while keeping your comfort and viewing pleasure in mind. Our Mountain Safari Vehicles offer 360 degree views and four rows of comfortable seating, allowing up to 12 people to explore in a single truck. The Safari, affectionately known around here as the "Truckasaurus," offers a nice high viewing area to take in the beautiful San Juan Mountains and has a removable canvas top that can be replaced if inclement weather were to pop up. This vehicle is great for groups large or small during most weather conditions.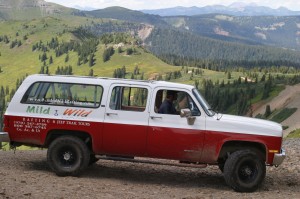 Suburban: This suburban is not for hauling the kids to soccer practice. With a reinforced steel cage and plenty of lift the suburban seats up to 7 guests. This 4-wheeling machine has a removable top that allows the sun to shine in during those beautiful bluebird days and keeps the rain/snow/cold at bay on those less than ideal days. The suburban is great for smaller groups and provides a more intimate trip. It is also our warmest vehicle and is often used for the early and late season tours. As of 2018 we no longer use these vehicles.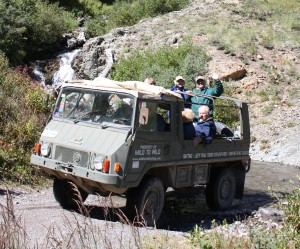 Pinzgauer: A Pinzgauer is in the family of high-mobility all-terrain 4WD (4×4) and 6WD (6×6) military utility vehicles. These offer u-shaped seating, allowing groups to face each other while still getting 360 degrees of the gorgeous surroundings while on the tour. These vehicles are the most unique looking and provide ample comfortable seating for larger groups. The Pinzgauers also have removable tops and covers and are best suited for warmer days with drier weather conditions. As of 2018 we no longer use these vehicles.
All Jeep Tours: Along with a wide range of vehicles, we also provide blankets, fleece and rain jackets to ensure comfort while on our tours, even if Mother Nature does not cooperate. No matter what vehicle you end up in for your tour, you won't be disappointed with the beautiful scenery and unique history the Southwest has to offer!
Get New Blog Posts in your Inbox