Gear Review: NRS Big Baron Stand Up Paddle Board
By Molly • September 22, 2012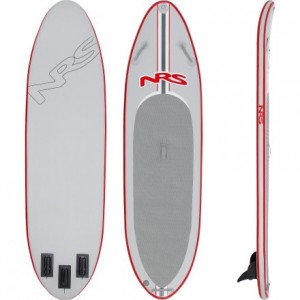 Specs:
Material: PVC-coated drop-stitch
Dimensions: 11'4″L x 36″W x 4″T
Weight: 33 lbs.
Recommended PSI: 12-15 psi
Grippy foam deck pad – 7'4″L x 27″W
Leafield C-7 valve
Three removable fins
Four webbing handles
Four stainless steel D-rings
Includes: K-Pump 100, Kwik Check Pressure Gauge, Carry backpack, Repair kit
Review:
We ordered a few Big Baron's this spring when we decided to start offering Stand Up Paddle Board lessons and rentals. First things first: yes it is definitely the BIG Baron. Despite that, it's easy enough to carry and transport either inflated or rolled up into it's bag. The board is super stable and does not submerge with two adults on it, or one adult & a rather large dog! The only downside I experienced was the maneuverability. Like with anything: the bigger, the harder to turn. The Baron provides a great starting point for many of our guests to learn the basics of paddle boarding on flat water and even try out a few yoga moves or maybe head stands! As we start to get more experienced in this new paddle sport we'll likely pick up some smaller boards to allow us to try more technical maneuvers.
Conclusion:
Great for beginners, flat water cruising and SUP yoga!
Get New Blog Posts in your Inbox