First Annual Duck and Run Race!
By Molly • July 26, 2012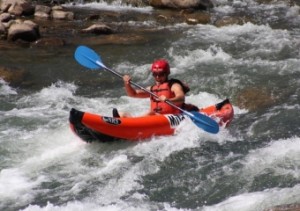 Mild to Wild Rafting and Jeep Trail Tours, Inc. is excited to announce the first ever Duck and Run race on July 28th, 2012.
Anticipated as the most serious duckie/foot race ever, participants start in an inflatable kayak and take on Durango's Animas River. Upon arrival at Santa Rita Park, they run back to the starting point along the river trail in Durango.
"May the best duck win!" said Alex Mickel, owner of Mild to Wild Rafting. "We are thrilled to invite Durango locals and any one visiting to this first annual event and wish all the best of luck."
Participants check-in at Mild to Wild's main office at 2 p.m. The race launches at 3 p.m. from 29th Street Park and moves three miles downstream, navigating through "Train Bridge," "Baby Smelter" and "Smelter" rapids. At Santa Rita Park, participants run up the river trail to the start point.
"An event like this is sure to draw river enthusiasts and anyone looking to enjoy our beautiful river and trail in Durango," Mickel said. "We hope to have a great turn out for the Duck and Run this season and look forward to it becoming an annual event."
Mild to Wild provides all the boating equipment or participants can bring their own. At 5 p.m., a post race awards ceremony and celebration will have beer and music sponsored by Ska Brewing at the Mild to Wild main office.
Inflatable kayaking is a popular sport in Durango among locals and visitors alike. Considered to be an intermediate activity, inflatable kayaking allows participants to step up the adventure level due to the fact that it puts them into a smaller boat where they have control of their own course.
According to Mickel, participants must be 12 years of age or older to participate.

Get New Blog Posts in your Inbox