By Molly • March 20, 2012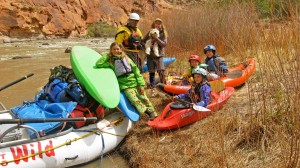 Here at Mild to Wild we know what it means to be a family. We were founded on family values seventeen years ago and once you join the team, you're immediately accepted into the Mild to Wild crew. We also know that it can be difficult to get a family together and moving, and for this reason we want to help you plan the perfect vacation for you and yours to our lovely little corner of the world!
The best way to get your family ready for the big vacation is to start planning early and build excitement! Sit down and discuss what everyone wants to get out of the trip. The kids may want to laugh and experience new adventures. Dad may want to boost his adrenaline.  Mom may want to relax. Whatever happens, it's important to know what everyone wants out of their vacation. After you've talked and the whole family is excited to start planning, give one of our trip consultants a call. We are trained to help you pick the best trip for your family based on your age, adventure level, needs, and desires. We have over 27 different trip options in 3 different states and we will make sure you get the vacation your family is looking for!
After you make your reservations, check out the Picture and Video Galleries on our website to show everyone what they're in for! Then, get the whole gang together for a packing night (to make sure you have everything!) and to build excitement for the impending departure day! Once you arrive here at Mild to Wild, let us take over and show you what family means to us! Our guides, drivers, and office staff will do everything they can to make your summer vacation not only a exceptionally good time, but also a lifelong memory!
So, from our family to yours, we hope to see you soon!
Get New Blog Posts in your Inbox