Durango Vacation: Soak It Up! The Best Hot Springs to Visit
By Molly • December 1, 2015
When coming to Southwestern Colorado, one item on everyone's list should be a visit to a hot spring.  These springs of geothermal heated water are said to have natural healing powers and health benefits.  They are great way to finish off any Southwest adventure whether it's rafting, a Colorado jeep tour, exploring on the Durango train, or discovering history on a Mesa Verde Tour. Regardless of why you choose to visit a hot spring, be ready to soak up the water and relax.  Here's a list of some favorite and convenient hot springs for you to enjoy on your Durango vacation.
Trimble Spa and Natural Hot Springs – Durango, CO
Trimble Spa and Natural Hot Springs has been a Durango local favorite for many years.  Containing a couple pools of different temperatures, a sauna, and various spa treatments, you're bound to find some way to relax and enjoy some peace and quiet on your Durango vacation.

Piedra Natural Hot Springs – Pagosa Springs, CO
With so many things to accomplish while on your Durango vacation, it might be hard to find time to fit in a hot spring soak.  One of our favorite hidden springs are the Piedra River hot springs, which can only be accessed through the river or by a day's hike.  All we can say is, it's well worth the time.  You're on vacation, so be sure to kick back, relax, and soak up those healing waters at least once.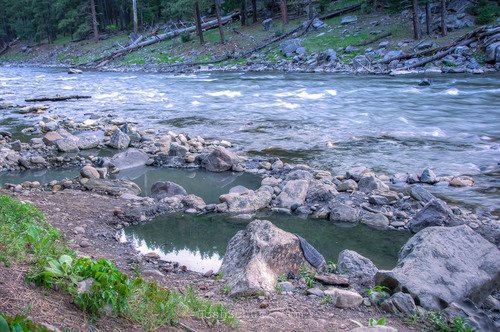 The Springs Resort – Pagosa Springs, CO
Home of the world's deepest geothermal hot spring, The Springs is a great romantic getaway or great day trip.  With the first bathhouse on the property erected in 1881, The Springs have since grown in size and grandeur.  Enjoy one of the 23 different pools, get a massage, or look into renting a room for the night and having 24-hour access to the pools.
Overlook Hot Springs and Spa – Pagosa Springs, CO
Known for their rooftop pools overlooking downtown Pagosa Springs, Overlook Hot Springs and Spa also has five indoor pools for your enjoyment.  Get a massage, which includes a relaxing, hot mineral bath soak.  As a more "hidden" hot spring establishment, be sure to check this place out when you want something a little quieter on you Durango vacation.
Orvis Hot Springs – Ridgeway, CO
A favorite among visitors and locals, Orvis Hot Springs has a total of seven pools:  four outside, one inside, and two private indoor pools.  With an option to leave the springs and return later, it's easy to commit to a day of soaking and relaxing.  Keep in mind, outdoor pools are bathing suit optional, allowing guests to experience the springs in a more "natural" manner.
Ouray Hot Springs Pool – Ouray, CO
A quick and convenient hot spring choice, Ouray Hot Springs Pool is great for the whole family.  Dislike the smell of other hot springs?  These pools are famous for being sulfur free, eliminating the rotten egg smell.  With soaking pools, a lap pool, water slides, and play areas, both you and the kids will enjoy making this a part of your Durango vacation.
Dunton Hot Springs – Dolores, CO
Dunton Hot Springs is a short drive from Telluride, Colorado and offers more ghost town experiences after a ghost town tour.  Refurbished mining cabins offer a great place for visitors to stay and an ever-changing menu from the kitchen will satisfy any appetite.   There are six ways to enjoy the springs, including the source pool, the river, and the bathhouse.  With little to no cellphone service, you can truly get away from it all.
Wiesbaden Hot Springs Spa and Lodging – Ouray, CO
The place for those with heath conditions or allergies, Wiesbaden Hot Springs Spa and Lodging does not allow smoking and pets (anyone who has smoked in the past three months is ineligible to enter the resort).  A private soaking pool, a lap pool, and other pools are all fed by continuously flowing water.  Experience the Vaporcave, which sits within the mountain on the property. Need extra time to enjoy everything? Stay the night!
Get New Blog Posts in your Inbox