Choosing the Best Adventure Vacation For You
By Molly • December 17, 2010
Lots of Important Considerations!
Adventure vacations offer travelers the chance to take part in a variety of actives such as whitewater river rafting trips, inflatable kayaks, jeep trail tours, horse back riding, whitewater hard shell kayak trips, scenic flat-water kayak trips, ATV tours, snowmobile tours, ski trips and many more! There are trip options available for people of all fitness levels. America Outdoors, the International Outfitter Trade Association, provides easy to follow guidelines on how to plan a trip.
Consider the following factors when planning an adventure vacation:
1. Consider your primary motivation for choosing an adventure vacation. Do you want to challenge yourself, to share an outdoor experience with family, or just to sit back and relax?
2. Consider the ages and fitness levels of all of the travelers in your group. Any physical limitations of any group members should be considered before signing up for a trip and those issues discussed with the outfitter prior to finalizing your plans.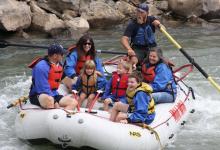 3. Many adventure activities have age minimums, which may limit families with young children.  When researching an activity the age restrictions are one indication of the level of adventure. You most likely are not going to get the thrill of your life on a trip that allows four year olds.  Also, check to see if age limits change with changing conditions. For example in whitewater river rafting during high water times, age limits generally increase for safety reasons.
4. Most outfitters, unless a rental company, have guides providing instruction and necessary guidance throughout the trip. Many trips cater to families and individuals with little to no experience. More adventurous trips may require prior experience.
5. Get references of previous customers who may be able to tell you what to expect during your vacation if you feel you need a more information. TripAdvisor, Yelp and Yahoo are a few online resources for finding reviews of attractions and outfitters.
6. Make sure that you inform the outfitter of any special conditions that may affect your trip. Outfitters are good at making reasonable accommodations for various conditions, but some trips may have essential fitness and age requirements.
The above considerations will help assure you a safe adventure. Happy Adventuring!
Get New Blog Posts in your Inbox