Bring Your Kid to Work Day
By Molly • August 24, 2013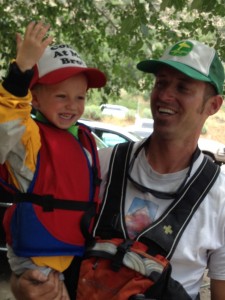 About 3 weeks ago, I had the fortunate opportunity to bring my son, Willy Daryle, to work with me when I got called up to take some clients on a Lower Animas River Economy Trip.
He was amazing! He has been on several rafting trips before, and has spent a fair amount of time on the river fishing and building sand castles, but this was actually his first time on the Lower Animas section in a raft. One of the clients asked me if there were fish in the river, and Willy actually answered for me. We were in the Junction Creek Lake and he pointed out a fish that was under our boat at the time! Willy then proceeded to explain in very simple language that the fish we were looking at was a Carp, not a Trout, "Yucky…Carp yucky." It was at that moment that I realized, Willy is going to make a fine guide someday himself, if he chooses to do so!
I am so thankful to work for a company that is so family focused and that allows opportunities like this to occur. I have a pretty amazing family and getting to share my passions and my work with them has been a highlight of my summer.
Rob Meeker
Raft Guide
Get New Blog Posts in your Inbox