Best Breakfast in Durango
By Molly • July 28, 2015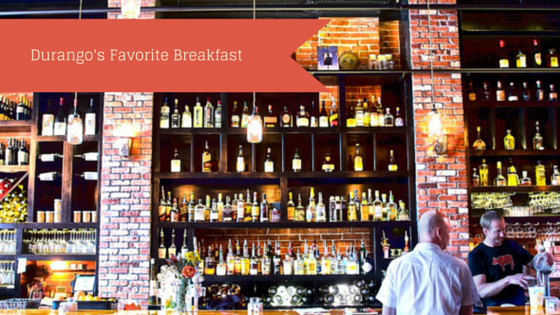 Breakfast is the most important meal of the day, so you need to start it off right.  If you're not a local, the breakfast options in Durango may seem overwhelming at first.  Here's a locals guide to where to find the best Durango breakfast.
Carvers
If you thought Carvers Brewing was just a brewery, you're mistaken.  Not only is Carvers home to many brews and signature drinks, but it has a breakfast menu filled with great items.  Enjoy multiple omelet, eggs Benedict, or scrambled egg entrees, and grab a muffin of the day as a side.  Seats fill up quickly, so make sure to plan ahead.
Doughworks
This is a Durango favorite for doughnut lovers and breakfast enthusiasts alike.  Walk in any day at almost any time, and there will likely be a line to check out and waiters running back and forth to serve the seated guests.  If you're in a rush, grab a doughnut (or 12) or a breakfast burrito and hop in the checkout line.  You should be walking out within five minutes.  If you have a little more time to hang out, consider going into the restaurant area.  Breakfast portions are quite large so be prepared to go home with leftovers.  This is a great place for a breakfast meet up with friends or for a family reunion with kids.  This is also where we get our adventure lunches from.
Durango Diner
A local favorite tucked away on Durango's Main Ave, this place is famous for it's green chile.  With a "no-frills" menu filled with classic items, this is the pace to get plate-sized pancakes.  Just in case you forgot to order some green chile or salsa, you can order both online and have it shipped anywhere in the country. If you want a Brass Monkey to accompany breakfast, take a seat a few doors down at the El Rancho Tavern and the Diner servers will come take your order.
El Moro
Ask a local and they will likely tell you El Moro has the best eggs Benedict you will ever have.  A little more upscale than your local diner, this is a great spot for some breakfast with a side of Durango history.  Located on Durango's Main Ave, this is a great location to get some food before walking the street, looking at the different shops.  El Moro has it's own unique history, so be sure to ask your server about it.  Brunch is only served on Saturdays and Sundays from 9am-2pm.
This is just the tip of the iceberg when it comes to awesome breakfast dining in Durango. Others to check out would be Bread, Kassidy's Kitchen, or Jean Pierre.
Get New Blog Posts in your Inbox