A Raft Guide's Wild Beginnings with the Salt River
By Kim Cassels • December 14, 2021
A Raft Guide's Wild Beginnings with the Salt River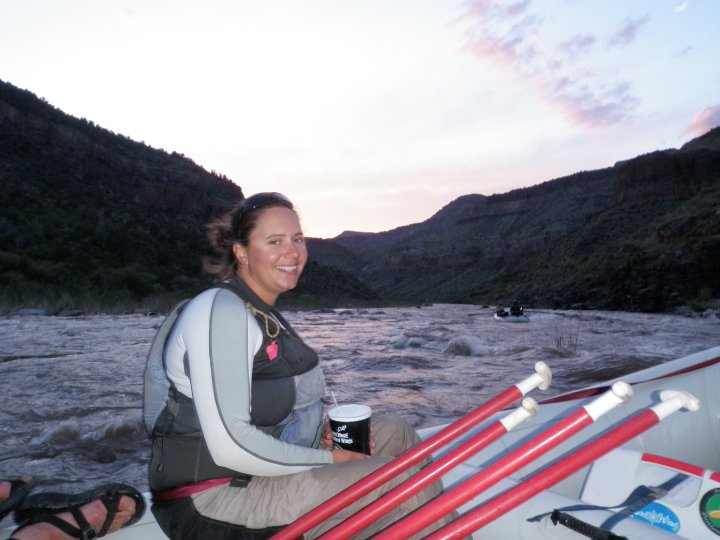 Anna Folks started at Mild to Wild as a raft guide on the Salt River in 2010. Now, she's the Multi-Day Operations Manager, ensuring all overnight trips floating into the vast deserts of Utah are thoroughly set for success.
Anna hails from New Mexico, where the Rio Grande first beckoned her love for whitewater in 2005. Since her salad days at the bottom of an enchanting gorge, she's busted through rapids across the planet, from Africa's Zambezi to the Futaleufu in Chile. How she's continued coming back to raft this rare slice of paradise in the states is a testament to the Salt River Canyon's undeniable mystique.   
Her first trip down the Salt was on a pretty precarious private trip in 2009. It included; Stacking WAYYY too much stuff (boats included) on top of a Tacoma; Broken oars because the said stuff flew off the truck whilst racing down I-40; And a dog getting covered in teddy bear cholla cactus spines once they finally made it to the canyon. It was certainly an adventure, and one that left a lasting impression on her— in a good way. 
"I remember thinking how I just love that place," she said. "It just seemed like it'd be so cool to work on the Salt, start early in the spring, and live there." 
The following year, after a winter-long ramble through South America, "I was pretty hell bent on getting a job out there," she said. 
So after applying to every outfitter that ran this ribbon of rare oasis, she landed her first gig with Mild to Wild. And being the only guide who could start at the first sign of the White Mountains' snowmelt, she descended into the frozen, white-rimmed canyon alone in mid-February.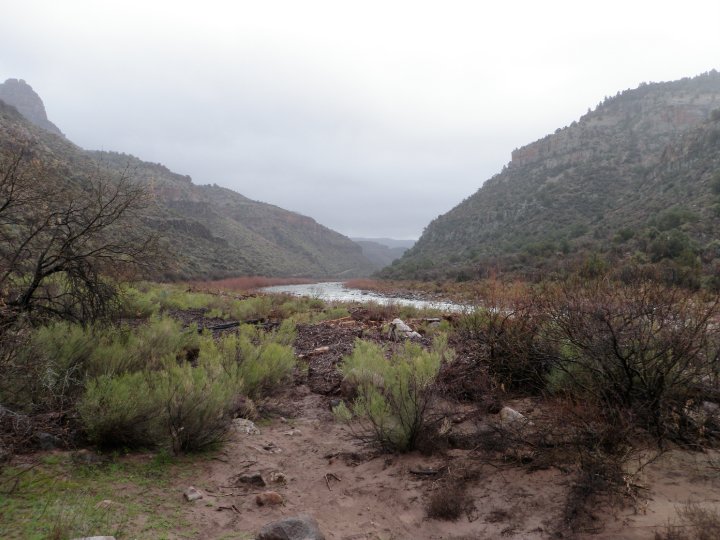 Following her manager Joe's directions, Anna arrived at what she thought was the guide's camp. Being the first on the scene, she took the liberty of choosing the prime spot for her living space for the season. 
As she was just finishing her setup, Joe rolled up in his truck with a dog in the passenger seat. He promptly informed her that this wasn't the right camp, and so she packed up everything she'd thoughtfully laid out and followed him to the other end of the deserted bank. 
Now on the correct patch real estate, the next coolest spot for the coolest camp was calling her tent stakes. 
"I get half way through, and he walks over again to say, 'You can't put your camp right here because this is where our kitchen goes.'" 
With a second failed attempt to layout her living arrangements, she gave up for the evening and walked over to Joe's camp.    
"Do you like beer?" she asked rhetorically. 
"Yes I do." 
As the beer got drunk, night began to fall with frigid pitter patter. They were expecting trucks from Colorado full of river guides and all the supplies needed for the season. But only one eventually showed up that offered neither. 
One lonesome Salt guide emerged from behind the headlights. His name was Neil, who, unbeknownst to Anna at that moment, would become a long and dear friend on and off the rivers they'd run together across the West. 
"The bus took forever, and there's a snowstorm up there, they all turned around," he said. "Nobody wanted to stay down here, so they're going to go get a hotel tonight and leave in the morning." 
Anna slept in her truck for the night, Neil under a leaky kolopa, and Joe snug as a bug in a rug in his tent. The next day, their delivery was still delayed most likely due to the ongoing drizzles. So without the resources to set up an entire guiding operation for the following months, Neil and Joe felt the ever-growing river call to them. 
"I'm watching the river rise, coming up in all this rain in front of my eyes," Anna recalled as the guys decided that they should each take a 12 foot boat for christening. 
"You'll be fine!" they asserted. 
Finally pushing off in her own empty raft, she couldn't help but wonder, "Do these guys know what they're doing?" 
The Salt immediately pulled Anna's boat into its newfound current while the February air clasped her hands. 
"They felt like they were frozen to the oars, they looked like a dead body's."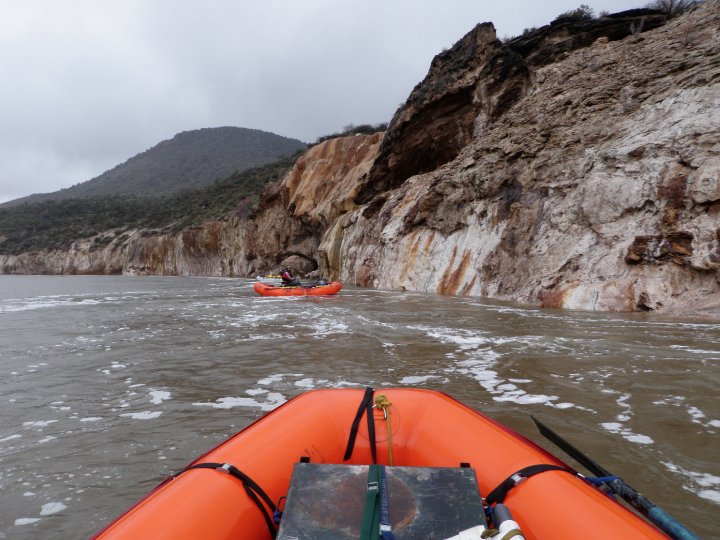 But that wasn't enough to distract from the joy of witnessing an ancient canyon in the thralls of transformation. The convoy spent the day blissfully plunging their petite rafts in the rapids and holes of a resurrected riverbed— one that spends most of its year parched and exposed to an unforgiving Arizona sun. 
The next day beckoned another run, but through bigger and badder rapids that would require some scouting beforehand. The first few spats went pretty well, and then they got to Quartzite. 
Quartzite is a Class IV wave that collapses in a cramped channel of the canyon. It's formed as the water drops over a steep ledge, creating a recirculating current in the belly of its beast. At high water, boats can have a difficult struggle getting out of it if they don't hit it clean. 
Anna and Neil climbed atop the quartzite pile above the keeper hole to analyze it while Joe bobbed in the eddy upstream. 
"I remember getting really worried once I saw one giant hole feeding into another giant hole," Anna said, not seeing a promising way to run it without flipping. 
"Don't be so negative!" Neil retorted.
Powered with positivity, perhaps by the hydraulics thundering before him, he climbed down into a nearby eddy to get another angle on the multiple mouths of the monster. 
"I know what to do," he told Anna and Joe. "Put your tube right up on that curler wave." 
"Sounds like you're going first then," Joe responded. 
Happy to oblige, Neil ran Quartzite without any literal hold ups, and Joe promptly followed suit. Then it was Anna's turn.  
"Great, I better not screw this up," Anna said to herself as her oars dove into the calm upstream of the storm. 
Following Neil's direction, she dropped off the ledge, turning the bow's bumper into the wall of white surfing towards her. And as she was swept into the roaring swell of freshly-melted desert powder, Anna and her 12 foot raft broke through the other side, upright and all. 
"Okay, maybe these guys do know what they're doing," she laughed to herself afterwards.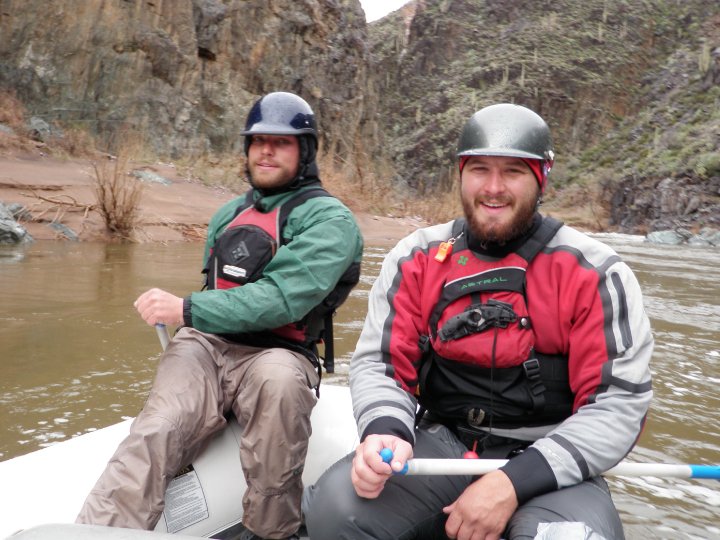 The days, weeks and months to follow continued to be just as bountiful. The Salt saw 7,000 CFS barrel through its miraculous corridor, allowing the guides to run it until Memorial Day weekend. This was rare, as the river almost always runs dry before May nowadays. 
"We had such a rowdy, fun season," Anna said. "We got to see everything flower in a wet desert, we saw tortoises and the most wildlife I've ever seen. Even the saguaros started flowering early. It was a really special year." 
In her first season guiding on the Salt River, Anna cultivated a close relationship with this capricious contributor of the Colorado River, along with amazing friendships, and an ongoing tenure with Mild to Wild.  
Anna still runs this canyon with Mild to Wild the years it has enough water to hold a raft. And as a word from the wise to those who are lucky enough to camp along the Salt River all season long, she advises with a laugh, "You want a bigger tent, and more supplies."
For those interested in becoming a guide with Mild to Wild, check out our Employment Page, or if you're still a newb, our Guide School.
More Reading 
Real River Runners Write Letters — Herm Hoops in River Conservation
What it's like to take a Women's Rafting Trip — As told by River Guides
Get New Blog Posts in your Inbox