5 Reasons to Try Inflatable Kayaks on a Full Day Trip
By Molly • July 16, 2013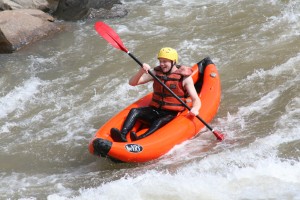 Inflatable Kayaks are a great way to step up the adventure on a milder river like the Lower Animas River At lower water levels, these unique crafts offer an especially fun way to navigate through the river! We offer short introductory and half day trips, but really, the best way to get out there and really experience inflatable kayaking is on a Full Day Trip!
1. No experience necessary!
Have a blast navigating your way down the river under the supervision of our highly trained guides. They will show you the best lines to take through the river and how to play around and have fun out there. You will not be strapped into the inflatable kayak (like you are in hard shell kayaks), so if you fall out, you just fall out and then climb back into the boat!
2. Control your own destiny!
Having control of your own personal inflatable kayak heightens the level of adventure! You get to spin and bounce through the Lower Animas River, forging your own path (or following our guides…your choice!).
3. It offers the best of both worlds!
Inflatable kayaks offer the best of both worlds: the stability of a raft and maneuverability of a kayak. At lower water levels, the inflatable kayaks offer a great way to step up the adventure as you maneuver through the rocks into the river channels.
3. Lunch!
After paddling all morning, you'll be hungry! We bring deli-style, make-your-own sandwiches with a choice of 3 meats,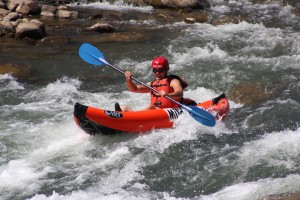 3 cheeses, and all the fixings (lettuce, tomato, cucumber, onion, mayo and mustard), pasta salad and/or potato salad, chips and beverages. Then, hop back onto the river for more splashy fun!
5. Maneuverability
Take on "Baby Smelter", "Train Bridge" and "Smelter" rapids! Unlike other small watercraft where you don't have a paddle, the double-bladed kayak paddle gives you the ability to tackle these Class II and III rapids! You can also run "Smelter" Rapid a couple times with the extra time the Full Day trip offers!
Get New Blog Posts in your Inbox