5 Amazing Off Roading Trails in Southwest Colorado to See Wildflowers
By Kim Cassels • July 12, 2021
5 Amazing Off Roading Trails in Southwest Colorado to See Wildflowers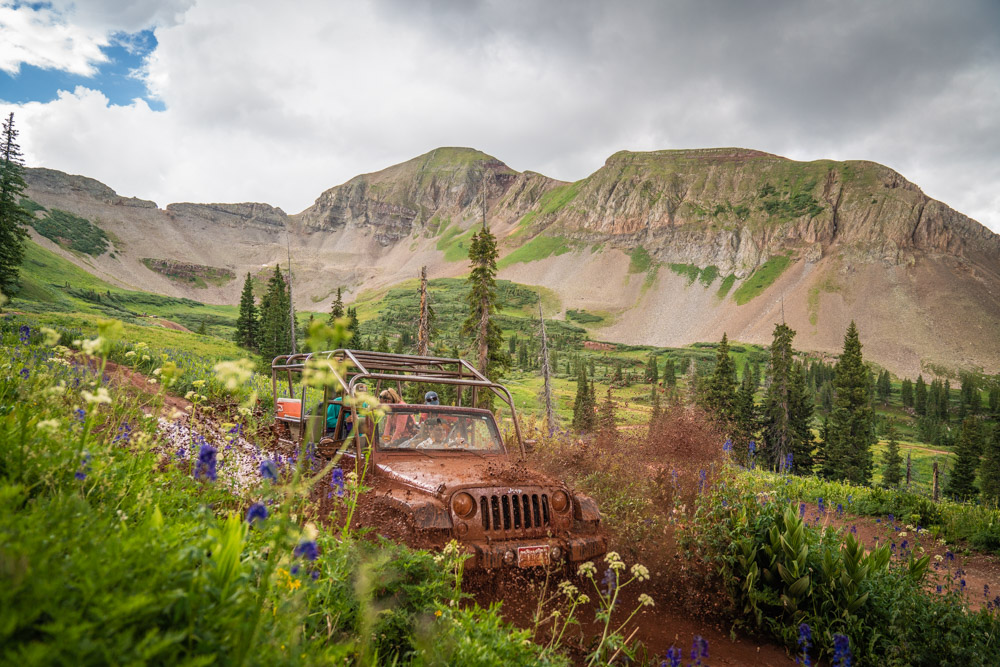 If you're looking for off roading trails in Southwest Colorado to see wildflowers, rev up and get ready for roads that bloom like nobody's business. Every trail on this list offers incredible views, waterfalls, wildlife, century-old mining remnants, and fun drives for your beloved 4×4.
When venturing into these places, always remember to practice Leave No Trace, including leaving those pretty petals to the bees and the birds. Now, check out these wildflower-filled trails before the summer heats sweeps them up by late July! Keep in mind, high elevations yield cooler and capricious weather, so don't forget layers and a rain jacket while you're out there galavanting amongst flower-filled fields!
Minnie & Maggie Gulches – North of Silverton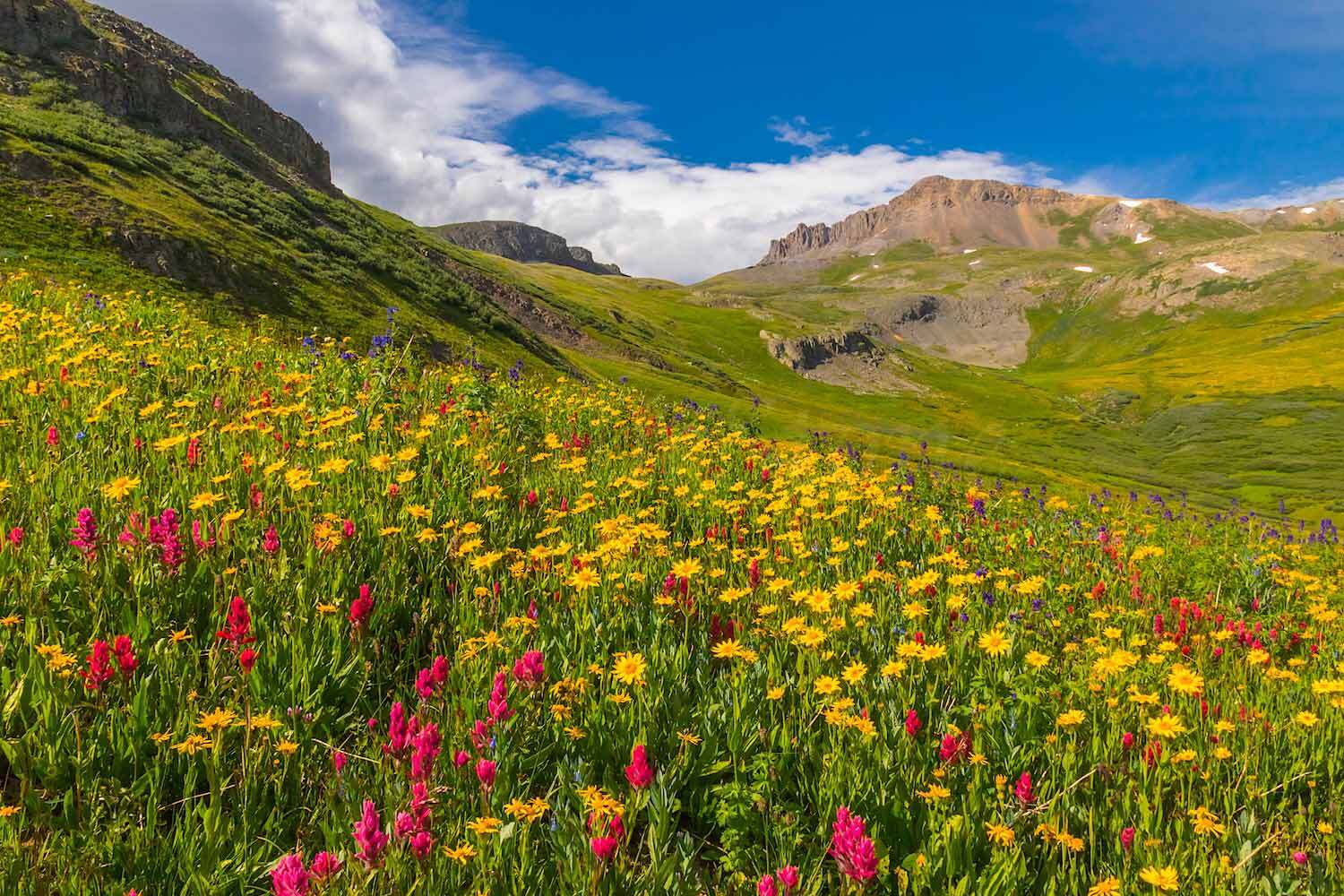 The high-rise dips between San Juan peaks are great to experience as a pair, or by themselves. While these routes tend towards the shorter side, they're both roads less traveled among the OHV trails around Silverton. Both of these trails are fairly smooth and don't come with any major obstacles. 
This area is a must if you want to experience the history, scenery and seclusion of the Rockies Mountains, but don't have much time to do it. Minnie Gulch sports more abandoned mining structures while the waterfalls in Maggie Gulch are unapologetically grandiose! 
Headed North on Co Road 2, turn right onto Co Road 24. 

Route is about 5.7 miles and climbs to 11,600 feet. 
Headed North on Co Road 2, turn right onto Co Road 23

Route is about 10.2 miles and climbs to 12,600 feet
La Plata Canyon – Hesperus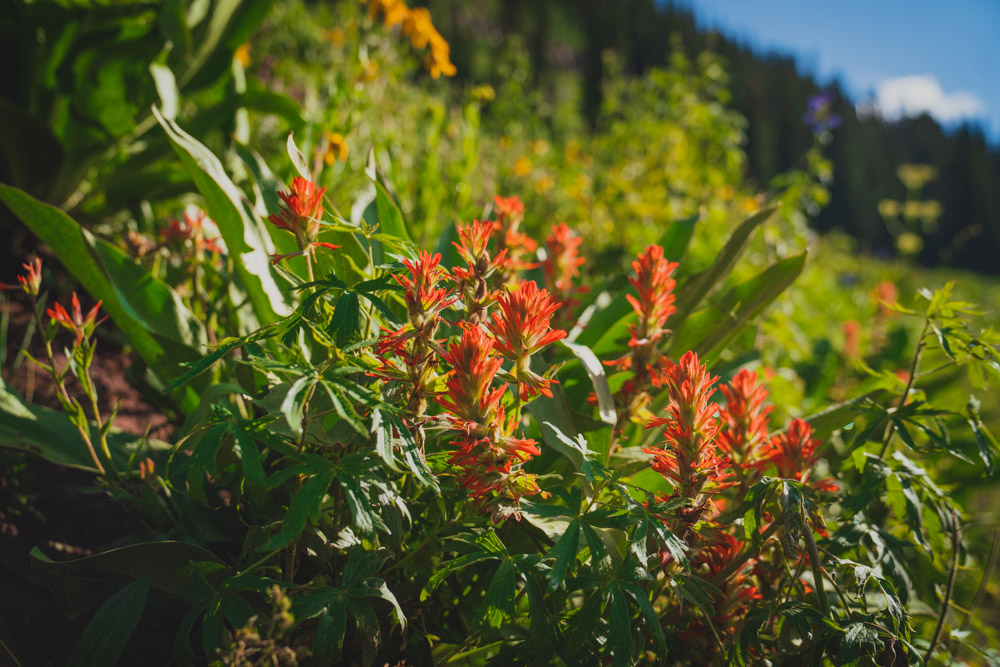 Traversing this narrow rift in the La Plata mountains promises for a dramatic display of blooms. The trail shimmies the ascent of the La Plata River for most of the way, and is often shaded by looming spruces and aspens. It's incredibly accessible from Durango with only a 15 minute drive outside of town. 
Co Road 124 starts off pretty easy and starts to require more grit and high clearance about half-way up the climb. Although it's respectfully rough (but not technical)  the road is usually wide enough to not disturb any oncoming traffic, even on the switchbacks. La Plata Canyon also only takes a couple of hours to complete depending on how often you plan to stop. 
Wanna just sit back and enjoy the ride in a slick, splendidly-suspensioned Jeep.? Take a guided Jeep Tour where you'll learn more about the rich history and fascinating geology of this pristine canyon! Or bumble along through the canyon yourself whilst asking a bunch of unanswered questions! Both sound great! 
Headed West on US-160, turn right onto Co Road 124 (you'll see the sign for the Kennebec Cafe). 

Route is 15 miles to the notch of Kennebec Pass, climbs to 11,500 feet 
Yankee Boy Basin – Near Ouray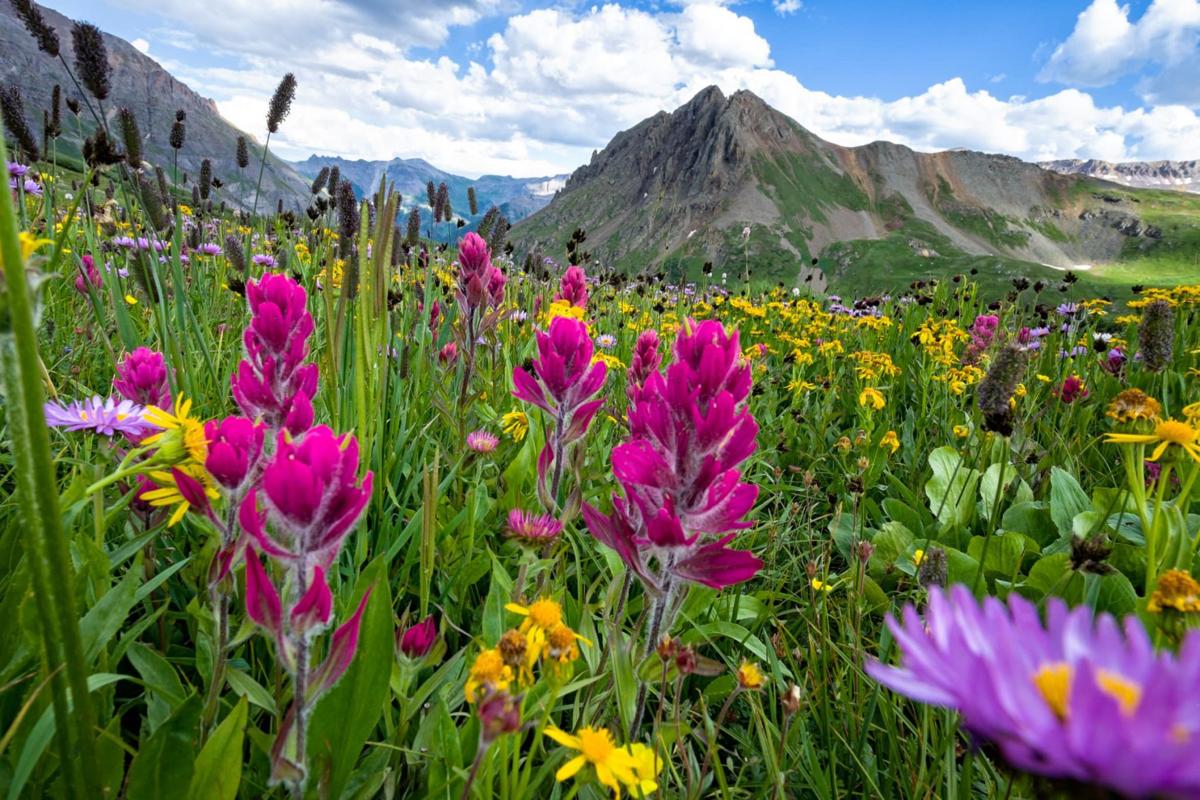 This historic trail deserves a full day of your attention, and not just to keep the tires on its fabulously exposed and narrow ledges, but to appreciate the pristinely preserved mines throughout the route. Yankee Boy is a must for drivers that really want a taste of what Colorado's off roading trails have to offer for wildflowers, wildlife, and wild views. 
Along the cruise you'll find unique geologic fins jutting from the slopes of the mountains, sizable abandoned mines, and valleys coated in alpine splendor. To see all this righteous Rocky Mountain goodness, you'll need your most reliable high clearance 4X4. The gravel road eventually becomes rough and decorated with technical obstacles. 
From Camp Bird Rd, continue right onto Co Rd 26, and then continue left as it becomes Yankee Boy Basin Rd. 

Route is 18.5 miles, climbs to 12,500 feet 
Engineer Pass – Red Mountain Pass to Lake City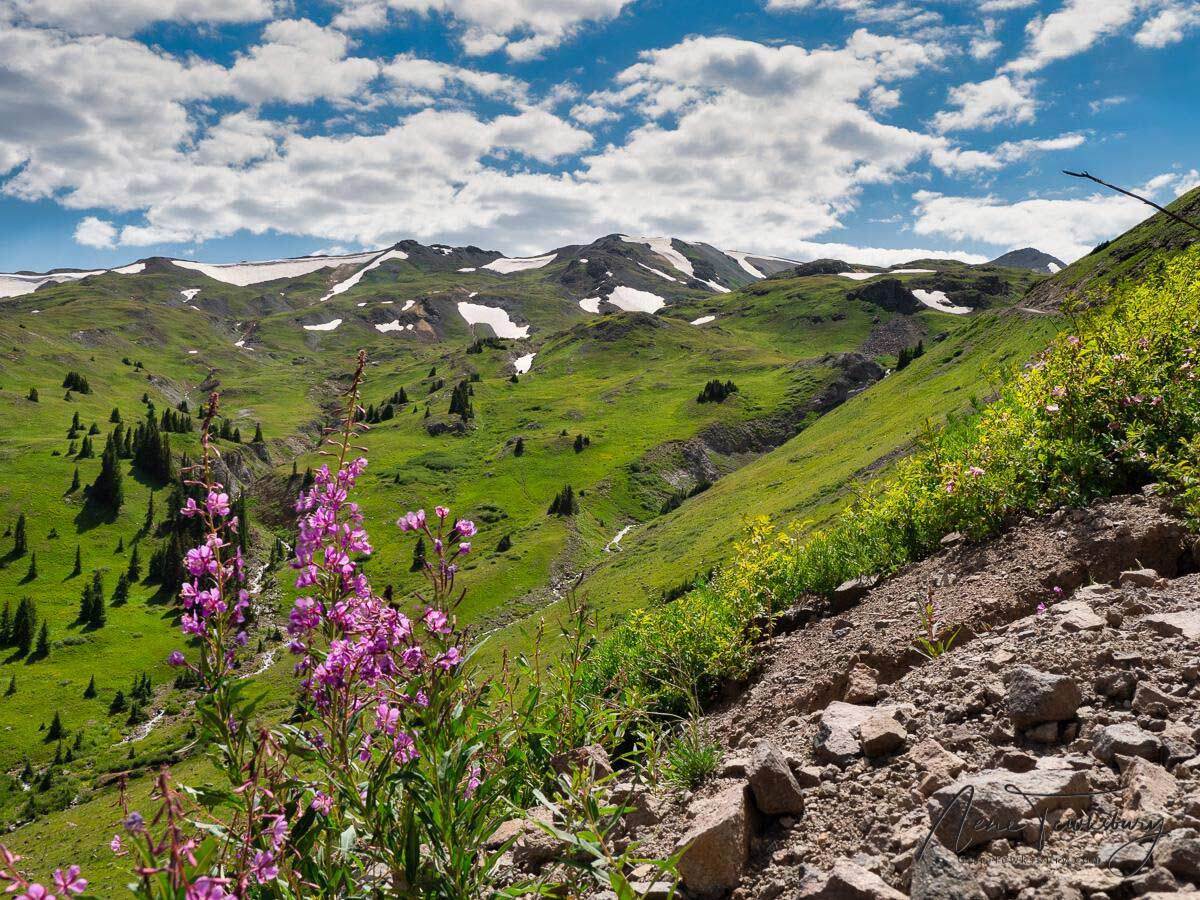 This road was established in 1877 and has not come a long way since the mules and men who first blazed it. It's probably the most dramatic off roading trail on the list, and deserves an entire day to complete the journey from one side of the San Juan Mountains to the other. This is a smaller section of the highly acclaimed Alpine Loop Trail, which is 65 miles pretty. 
Everything is bigger on Engineer Pass— the blossoming meadows, the views, the mines, the waterfalls. The trail isn't terribly difficult, however there are plenty of places of exposure that can give anyone's palms a good sweat. Good thing it's nice and cool up there with the fourteeners! 
From Ouray headed South on US-550, turn left onto Co Rd 18. Continue left on Co Rd 20.  

Route is 28.6 miles, climbs to 12,900 feet 
Animas Forks – Silverton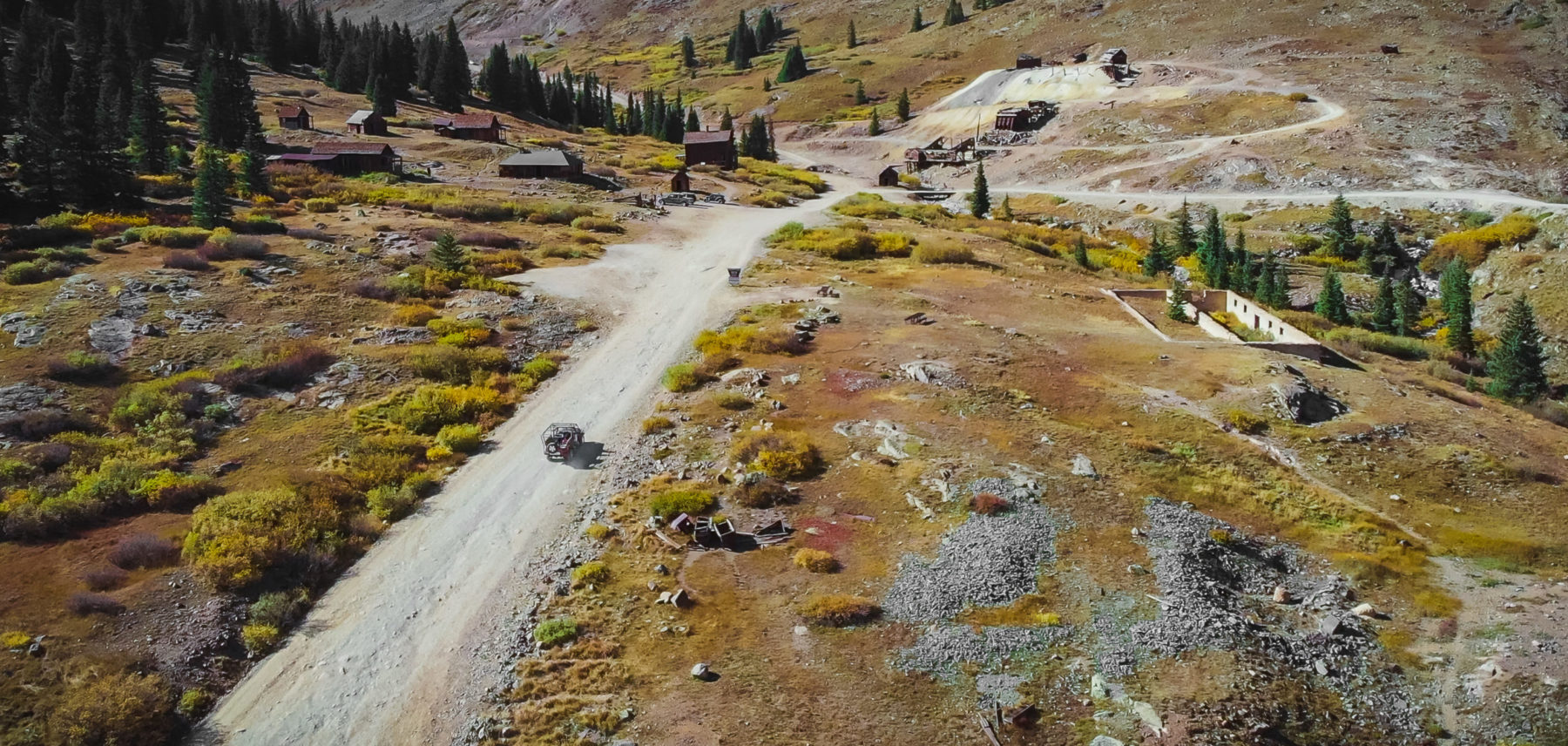 Animas Forks is loaded with fabulous flora, wildlife, century old mining settlements, and grand views of the San Juan Mountains surrounding precipices. The Animas River's beginnings in this valley make the blooms absolutely vivacious.
This is a fairly smooth road with some rough patches along the way, however nothing technical really emerges as it mostly keeps to the valley floor. Still, high clearance is always a good idea out here. 
There is an incredible treasure trove of history in Animas Forks, so take some time here to wander the cabins. If you'd like far more insight into the origins of this living museum, consider hopping on a Silverton Jeep Tour to get more out of the experience. 
Continue north on Co Road 2 out of Silverton, then take the switchback on the left that is Co Road 9. 

13 miles, climbs to 11,500 feet
More Reading
How the Silver Boom Made Southwest Colorado and its Wild Mining Towns 
Top Reasons Why you Need to Take a Jeep Tour in Southwest Colorado 
Get New Blog Posts in your Inbox