Family Reunions
Whitewater Rafting Trips & Other Family Outings in Colorado, Arizona and Utah
Getting the whole family together is no easy task …but it's worth every second!
Family reunions don't come around very often so you need to make the most of your family time while you can! A great way to get reunited and caught up is to spend some time together in nature's playground – the Southwest's rivers and mountains. We make it easy for you on our guided, catered trips.
Here at Mild to Wild, we want to help you create memories that will last a lifetime. With our wide range of activities and adventures, fitting for all age ranges, abilities and adventure levels, we can create a time of discovery, exploration, relaxation and special memories.
We Make it Easy!
We'll help organize your family adventures! Our group specialist will help you determine the best trip option for your group depending on your family's age range, adventure level and  fitness level.  Because family reunions usually have a wide range of these constraints, we can help plan different adventures for different groups of your family and then all can join up in a common adventure together, too.
We make payment easy, allowing separate reservations and payments, yet keeping your family members together on the same boats or vehicles.
We make it easy by emailing out information to all family planners.
Safety is #1
The natural outdoor playground of the Southwest provides a fun and educational experience. But always, while having fun, safety remains our top priority! Mild to Wild takes numerous extra safety precautions, including:
Instructional and safety orientations prior to launch
Guides certified in First Aid and CPR, with many maintaining higher certifications
State certified in-house guide training to ensure quality
Adjustments to age limits, rivers, trails,  boats, tour vehicles and even trip cancellations due to safety concerns
Free helmets on river trips
Highly maintained shuttle vehicles, tour vehicles and river equipment
Families of all ages and experience levels enjoy exploring in outdoor adventures together. Groups of just 10 or more receive group discounts. All of us here at Mild to Wild are kids at heart and we love creating fun for families in the outdoors. Enjoy special moments with your extended family while the Mild to Wild staff takes care of you on whatever adventure you choose!
Great Family Reunion Trip Options
River Trips (Raft, Inflatable Kayak, Premium Boats & Paddle Boarding)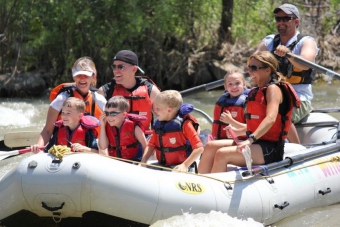 Kids love river trips…the longer the better! Family friendly rafting trips include hand-selected guides (many of whom have worked with us for 8 or more seasons and have families themselves!). They entertain the kids with stories of adventure and history of the area. Ask them any question you like, or have a hand at the oars and try navigating the boat (in the calm sections) yourself!
We know time is tight, but an overnight trip experience is truly worth the memories! There is plenty of time to re-discover your family and take time for yourself. Food is kid and adult approved (special requests accepted!), and as always, is fresh and filling. Relish a few moments of peacefulness for yourself, while the guides entertain your kids with beach games and fun around the camp fire.
Mild Options: Durango's Animas River (ages 4 & up) and Moab's Colorado River (ages 3 & up). River craft options include: rafts, premium boats, inflatable kayaks and paddle boarding. Family members can choose to be in a different craft (depending on their adventure level), but still experience the same stretch of river together.
Intermediate Options: Great for families with kids 8 and up! Telluride's San Miguel River (ages 8 & up), Arizona's Salt River (ages 8 & up), and Durango/Pagosa's Upper Piedra River (ages 12 & up).
High Adventure Options: Only for families with all participants at least 16 years old, very fit, all adventurous and ready to swim a rapid for practice! Durango/Pagosa's Lower Piedra River and Durango/Silverton's Upper Animas River.
Jeep Trail Tours
Families have fun reuniting while exploring and learning in the outdoors. Our jeep trail tours are interactive tours that explore up to 13,000 feet in elevation on old mining trails where you would not want to take your own vehicle! Sit back, relax and enjoy the ride! We have many options to accommodate your budget and itinerary: Durango's La Plata Canyon, Silverton's Ghost Town Tour, or our most popular trip option combining the Durango & Silverton train: Trails n' Rails.
Value Adventure Packages
We know you want to make the most of your time and money. For this reason, we have our value adventure packages – combining our most popular trip options together to save you money. Check out Rivers & Trails, Rail & Raft, and for the complete Southwest Adventure: Rivers, Trails & Rails!
Special Ways We Care for Our Family Reunions
Providing highly trained, experienced and caring guides
Trip Consultants that ask about you and your needs so we can recommend and provide the best family experience for you!
Accommodating special family requests and needs – Just ask us!
Being family focused! We are a family. We love kids! We provide kid-friendly guides, food, education & fun!
Our Value Adventure Package Trips
Group discounts for families of 10 or more