1 Day Pagosa Springs White Water Rafting Trip
Upper Piedra River
About This Trip
1-Day Trip on the Upper Box of the Piedra River in Southwest CO near Pagosa Springs
The Piedra River offers one of the most under-the-radar rafting trips in Colorado, flowing through a wonderfully rugged and highly protected swath of the San Juan National Forest. Down in the Piedra box canyon, one can expect narrow passageways lined with granite and looming ponderosas, with whitewater to oblige much of the way.
This section starts as a small creek with many technical Class II "splashes" that require maneuvering around various boulders. Consider this a warm up for the rest of the day! As creeks continue to cascade into the river, the Piedra swells with Class III "wet and fun" rapids and two stair-step Class IV rapids taking you over drops of 4 feet, 3 feet, and 2 feet into a pool of water.
Along the way, you'll intermittent moments to put the paddle down and watch for wildlife, or admire the rare geology of this wild river canyon. We'll stop for lunch in a forest grove midday, before finishing out the run through the trip's biggest splashes.
Upper Piedra River 1-day raft trips starting at $209.00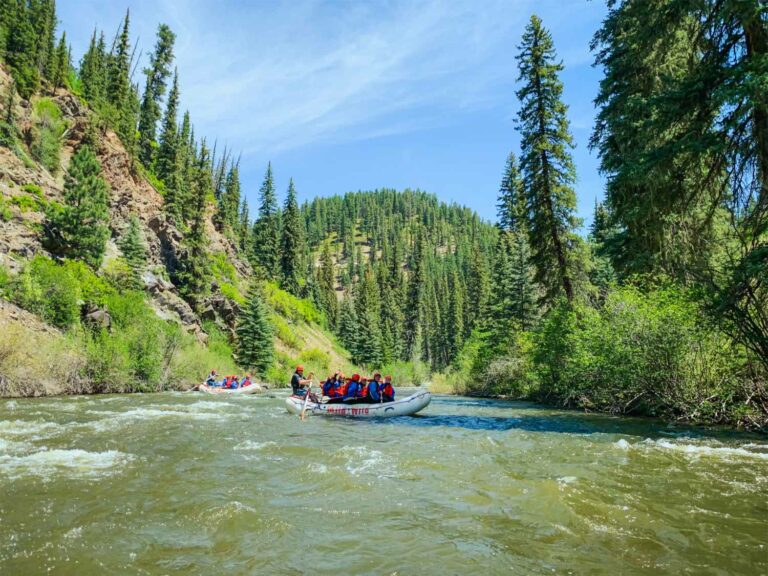 Season

Class of Rapids

Meet Time

Return
Boat Options
Standard Rafts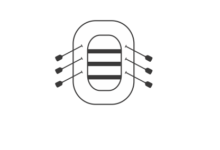 15 foot self-bailing rafts rigged as an Oar Boat with paddle assist.
Payment & Cancellations
Payment Options
1/2 down, 1/2 charged 30 days prior to trip.
1/3 down with remaining balance charged in thirds.
Call for other arrangements!
Free Courtesy Hold
We don't want you to miss out on this trip so we'll hold your spots, payment-free, for 24hrs while you make your final arrangements & prepare for payment.
Cancellation Policy
Receive an 80% refund with written notice 5 days prior to trip departure. Less notice, unfortunately there will be no refund. Trip Insurance through RoamRight is recommended to help cover unforeseen circumstances.
Fees
In addition to the listed trip cost, we collect an additional 9% for River and Land Access Fees (ie. Forest Service, BLM, City, Private Land Use).
Itinerary
4:45 PM Evening Prior - Optional Orientation
Check into our office the evening prior to your trip at 4:45 PM to get fitted for your thermal wetsuit gear.
9:00 AM
Meet at the Piedra River Meet Location, if arranged prior to your trip, at our Main Office in Durango at 7:30 AM.
Check in, sign release forms and get dressed for the river! Wetsuits and wetsuit boots are required (rentals available).
Shuttle to the river for safety orientation and rafting instructions.
Bounce and spin off rocks as you enjoy the technical Class II "splashes".
As the river builds in volume and the wilderness area thickens, the splashes become bigger!
Stop for a delicious riverside, deli-style lunch.
Get back on the river and paddle as a team through more Class II+ action!
Tackle the Class IV, drops of "Lone Pine" rapid.
Thunder down the drops of "Lime Stone" rapid.
Relax & enjoy the breathtaking wilderness & seclusion.
3:00 PM
Arrive back at your vehicle, and, if returning to Durango, 4:00 PM.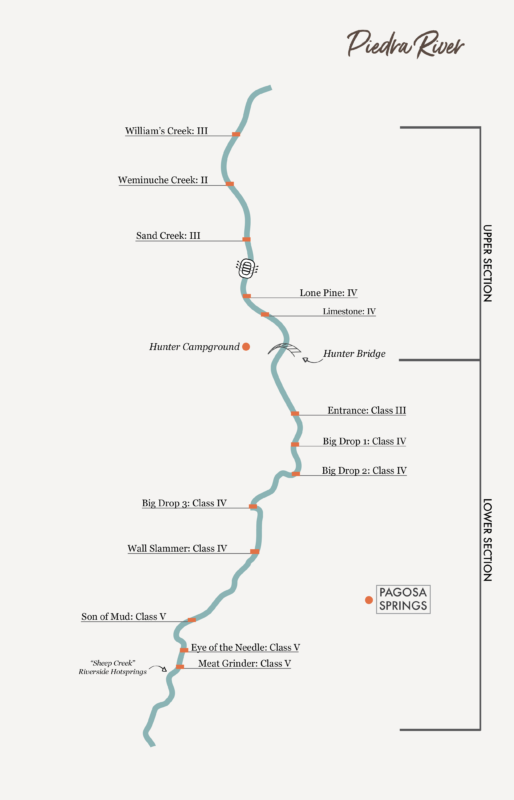 Important Considerations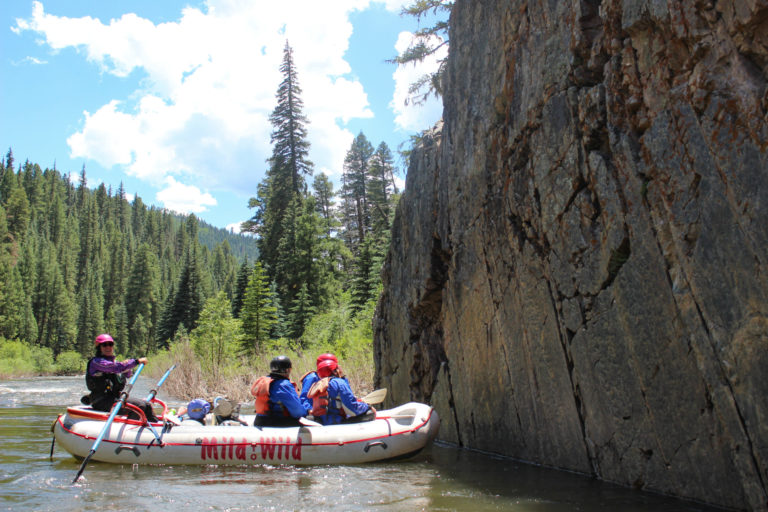 · A thermal wetsuit is required – rentals are available.
· Wear your swimsuit under your clothes for the shuttle to the river. There are no actual changing rooms at our remote meeting location.
· When the Piedra River level drops low (it gets real bony & the drops become more dramatic with bigger consequences), we will switch participants to the San Miguel River for a more suitable/fun trip. This will be arranged prior to your trip if necessary.
· Since there is only road access where we put-in and take-out, all participants must be in shape to hike up out of the canyon (uphill 2 hours) if needed. This level of physical fitness is necessary to participate in this trip.
· All itineraries are subject to change due to water conditions.
What to Wear & Bring
Wetsuits (available for rent)
Wetsuit boots all season (available for rent)
Fleece jacket and fleece socks (provides added warmth if you tend to get cold)
Swimsuit/Quick drying clothing (avoid cotton because it stays the temperature of the water and keeps you cold)
Water shoes or secure sandals with heel straps (no flip flops or crocs!)
Hat (that fits under your helmet)
Sunscreen
Sunglasses with a strap
Water bottle
Camera with waterproof case