Mesa Verde National Park
Cliff Dwelling Tours Near Durango & Cortez, Colorado
Mesa Verde National Park is one of the most significant archeological sites in the world as it boasts hundreds of massive cliff dwellings and thousands of ancient ruins. It is both a World Heritage Site and International Dark Sky Park, as well as home to several species that live nowhere else on earth.
Locals and visitors alike will agree that Mesa Verde National Park is a must-visit while you're in the Four Corners region. It is unlike any other National Park you'll visit as its dramatic landscape is a living, outdoor museum.
Our Mesa Verde Tours allow you to explore the best areas of the park with extremely knowledgeable guides. Our Mesa Verde guides provide a wealth of insight on the Ancestral Puebloan culture, how they built the incredible structures looming along the canyon walls, and many other fascinating facts about the region.
We currently offer Half Day Mesa Verde Tours and Cliff Palace Premium Tours through October.

Location

Restrictions

Season

Adventure Level
Transit Vans for Mesa Verde Tours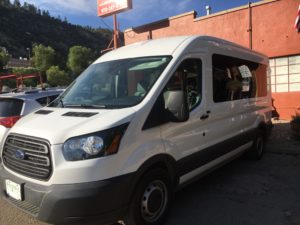 Vans seat up to 13 guests 
Standard Tours: Accommodates up to 10 guests.
Premium Tours: Experience a more personalized trip with a smaller guide to guest ratio (up to 5 guests).
New Flexible Payment & Cancellations
Payment Options
1/2 down, 1/2 charged 30 days prior to trip.
1/3 down with remaining balance charged in thirds.
Call for other arrangements!
Free Courtesy Hold
We don't want you to miss out on this trip so we'll hold your spots, payment-free, for 24hrs while you make your final arrangements & prepare for payment.
Cancellation Policy
You may receive a 90% refund 36 hours or more before the trip.
Fees
In addition to the listed trip cost, we collect an additional 9% for River and Land Access Fees (ie. Forest Service, BLM, City, Private Land Use).
10 REASONS TO ADVENTURE WITH MILD TO WILD
Rated #1 on Trip Advisor
1.
Whitewater & adventure experts for 25 years
2.
Free parking!
3.
Trip leaders exceed state requirements with avg. of 2,000 river miles
4.
Safety is our #1 priority
5.
Retail store with changing rooms and indoor bathrooms
6.
Free splash jackets upon request!
7.
We are a family! You are our family!
8.
Money back service guarantee!
9.
We know plans change so enjoy our lenient cancellation policies!
10.