Rivers, Trails, & Rails
Raft - Jeep - Train
About This Trip
This Package is Currently Unavailable
Mild to Wild is no longer booking tickets for the Durango Silverton Narrow Gauge. To browse the train's schedule and book their tours, visit their website here.
For those interested in seeing more of the Weminuche Wilderness where the Durango Train travels through, our Silverton Jeep Tour is an exceptional way to explore the mountains, old mines, and surrounding meadows of this incredibly scenic area. Your guide will give you a wealth of insight into the area's rich history, ecology and other entertaining tidbits you wouldn't get anywhere else!
If you're interested in letting us take you deeper into the San Juan Mountains around Silverton, check out our Silverton Jeep Tours!

Class of Rapids
Class I "moving water," a few Class II "splashes" and one or more "wet and fun" Class III rapids (depending on water level)

Meet Time

Return

Adventure Level
Tour Options
1st Day Train and Jeep Tour
Raft/Jeep/Silverton Train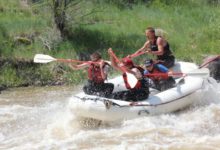 Experience the best of Colorado in 1 & 1/2 days!
The day prior to or after you've enjoyed our popular Jeep/Train package, which includes a Ghost Town jeep tour and a one-way trip on the Durango Narrow Gauge, explore Durango's sampler 1/2 day raft trip on Durango's Animas River! This package is great for ages 4-84, with Class I "moving water," a few Class II "splashes" and one or more "wet and fun" Class III rapids (depending on water level). You will be treated to a different view of Durango while learning the fascinating history of the area. Guests 12 and up have the option to upgrade to inflatable kayaks on the Lower Animas River (when water levels allow). Don't miss the highlight of your vacation in Durango and Silverton!
*Option to raft in the afternoon or upgrade to a full day or inflatable kayaks
Payment & Cancellations
Payment Options
Pay in full.
1/2 down, 1/2 charged 30 days prior to trip.
1/3 down with remaining balance charged in thirds.
Call for other arrangements!
Cancellation Policy
We know plans change… so we offer a lenient cancellation policy. An 85% refund is issued for cancellations received in writing 48 hours prior to trip departure. Train ticket cancellations require 5 days notice with a $14/ticket fee.
Credit Card Security
Credit card details are heavily encrypted. All information is transmitted via a secure connection.
Fees
In addition to the listed trip cost, we collect an additional 7% for River and Land Access Fees (ie. Forest Service, BLM, City, Private Land Use).
What to Wear & Bring
Dress in layers for the jeep/train day as it can be 5-10 degrees cooler in the mountains.
For all trips it is good to bring a water bottle, we don't want you to get dehydrated!
Wear quick drying clothes for rafting such as a swimsuit and nylon shorts in the summer. Wetsuits and wetsuit boots are recommended prior to mid-June, after Labor Day and on rainy days (we won't cancel your fun when Mother Nature adds to it!).
Important Considerations
Kids 4 and under can ride on your lap on the train portion if you want to save the money on their train ticket, but kids must be at least 4 to go on the rafting portion of the package.
You must bring your own car seats for children who require them on the jeep trail tour, Mild to Wild does not provide any. The Colorado Car Seat Law states that children up to 8 years must be in an appropriate car seat/booster seat.
Dark clothes are best on the train because of the soot, also sunglasses help to protect your eyes.
We recommend the open air gondola on summer train trips.
You can bring your own snacks for the train, but alcohol is not allowed.
Age limits increase with high water levels and/or we vary the river section.